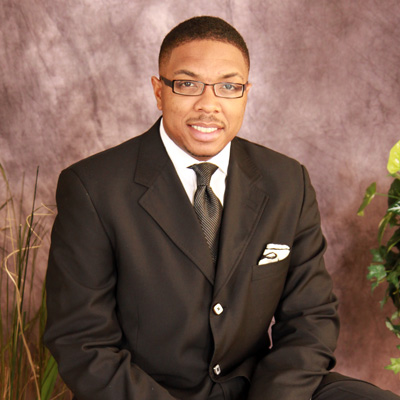 On

June 27, 1978, the Lord blessed Woodrow Jr. & Linda Bailey with their only son. The revelation of this gift, would be more apparent as the years progressed and God shaped this blessing into a mighty man of God. Therefore, it was by divine appointment that he followed in the footsteps of his father, the late Rev. Woodrow W. Bailey Jr. and acknowledged his call into ministry at the age of 21.
He was raised in Midland, Texas, accepted Jesus Christ at an early age and attended the St.Paul Methodist Church where his father pastored for much of his early childhood. His family was then led back to their home church, Macedonia Baptist Church in the late 80's, under the pastorage of Rev. O.J. Archie. He escaped the limitations of tradition and widened his spiritual parameters by seeking God through worship, bible study, and prayer.
Minister Bailey graduated from Robert E. Lee High School in 1996, and received a Bachelor of Science degree in Mass Communications from Oral Roberts University in 2000. While attending ORU, he was involved in the Spiritual Life Department, as a men's chaplain for two years. He served in many capacities as an executive board member of Souls A' Fire Evangelistic Ministries. Souls A Fire is a community outreach ministry established by Bishop Carlton Pearson, and commissioned by Oral Roberts in 1971 to reach the inner city. During his tenure with Souls A" Fire, he toured the United States singing, preaching, and ministering to people from varied backgrounds, races, and denominations.
In 1999, He publicly accepted his calling into the ministry and was licensed to preach. His ministry uniquely promotes a personal relationship with God and the importance of a life filled with daily worship. His God given anointing to preach and teach has strengthened and encouraged the body with a message of hope, and salvation in Jesus Christ. His intellectual, scriptural approach, and his intense oratorical style captivates the attention of the restless and convinces the confused that God is the answer to every equation.
In 2000, Rev. Bailey returned to Midland and began serving as the minister of music and and an associate minister of Macedonia Baptist Church. In 2005, Pastor O.J. Archie ordained him into the ministry. In January of 2009. Rev. O.J Archie announced his retirement following 35 years of extraordinary leadership. In March of that same year, the Macedonia Church body called Rev. Bailey to be the fourth pastor of Macedonia Baptist Church.

In June of 2011, Pastor Bailey married Ana Izquierdo and in April of 2014, the couple was blessed with their first child, Woodrow Wilson Bailey IV. In December of 2014, Pastor Bailey graduated from Lamar University with a Master's degree in Education Administration. He is currently employed with Midland Independent School District in the Human Resources Department.
Minister Bailey articulates a strong statement that offers "the only real choice to the problems of this day, is a personal relationship with our Lord and Savior Jesus Christ." If you every experience Him, your life will be forever changed. "My desire is to walk in the will of God and live life on purpose."
Many are the plans in the mind of a man, but it is the purpose of the LORD that will be established. Proverbs 19:21

To schedule speaking engagements or ministry opportunities, please contact Lela McNary, Pastoral Executive Assistant, 432-288-1823.