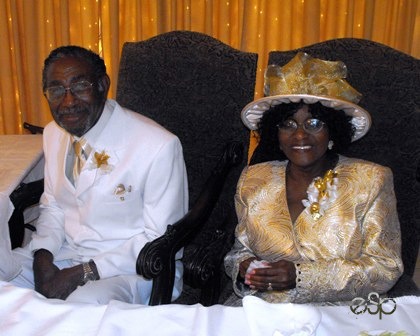 Pastor Emeritus O.J. Archie & Lady Blanche Archie
REVEREND O.J. ARCHIE served his God faithfully in ministry for more than 50 years and served the members of the Macedonia Baptist Church for 35 years as pastor. He was committed to sacrificial service, so that All may "Know Christ." Rev. Archie pastored churches in Snyder, Texas and Colorado City, Texas; and served as Moderator of the Lovely Sunset Baptist District Association providing leadership to churches from Sweetwater to El Paso.

He shared his love and care for the members of this church throughout his 35 years as the under-shepherd of this flock. He provided leadership in tough times, comfort during the loss of loved ones, and a word to help the members of this church hold on; always providing a hug when it seemed like no one else cared. Rev. Archie diligently continued to serve Christ even when his body was filled with pain. During his tenure, he endured four bouts with cancer and yet unrelentingly served the people of God.

He committed his life to ministry as well as being a devoted husband, father, grandfather, and great-grandfather. He lead his family by example to which he can testify that two of his children have followed in his footsteps by accepting the call of God into the ministry. In April 2009, Rev. Archie preached his final sermon as pastor of Macedonia and celebrated retirement the fourth weekend of April with hundreds from around the country returning to share in the celebration. As Pastor- Emeritus he provided valuable support to our current pastor, Rev. Woodrow Bailey III, a son in the ministry.
The scripture says, "weeping may endure for a night, but joy comes in the morning." Early in the morning of May 22, 2014, before the breaking of day, Pastor Archie received eternal rest and was filled with unspeakable joy as he entered the presence of His Lord and Savior, Jesus Christ. Surrounded by his loving wife and children his earthly trials and tribulations ended, but he will live on in our thoughts forever.
"Well Done, Thy Good and Faithful Servant!"